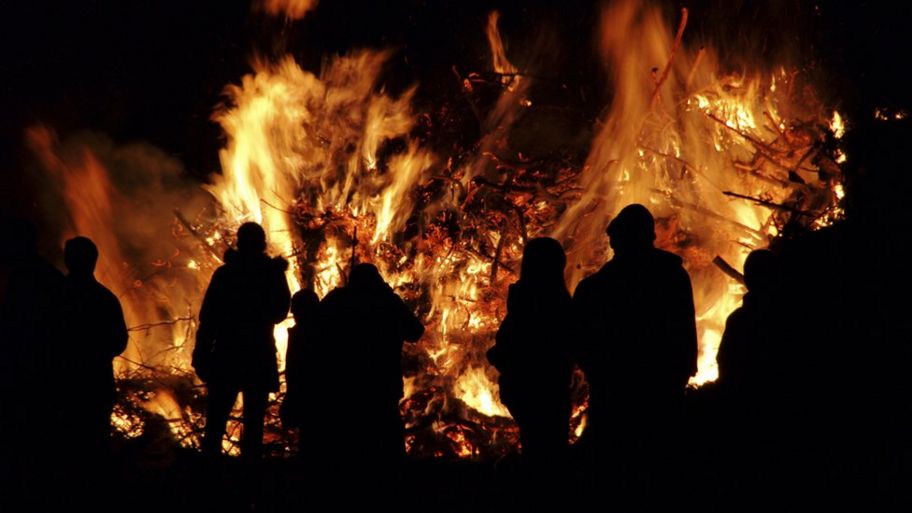 5th Werde – Candredi*
Tamala has come and gone. We're now into that rather ominous space that lies between the 'death' of Summer and the celebrations of Winter. I find it rather fitting how in Filianism, 'Samhain' isn't just a day but rather a whole month (or at the very least a three day festival) commemorating the passing of souls to the other side and the memories of those who have left this world. Astrea – and with it Nativity – is my favourite month and when both my anxiety and joy start to rise again. November, I find, is a very sombre month but in a different way to say, Moura.
I've started to feel my age a lot more recently. Next year I'll be thirty and I know there are friends who read this blog who are much older and probably rolling their eyes at how that is hardly old at all. Thing is, when I was a kid in the 90's growing up watching Friends, thirty did always seem like the year when you were officially an adult. I expected to have it all sorted out by then; good job, place of my own, maybe even someone to live my life with. But no, I'm still living at home, I'm still struggling with a heap of mental health problems, I work over forty hours a week and yet have no hope of being able to move out any time soon unless I win the lottery as there is zero affordable accommodation in my town (and no, moving would not be an option for me). And to add to that, I'm becoming more aware of just how fragile everything around me is, including the people who help support me.
There haven't been any recent tragedies or big changes to affect me. Yet. But I'm becoming more aware with every day that passes they are inevitable. Someone I love will die. Someone I love will get sick and need help. I might get sick. I might lose my job or have to leave (there is some drama at the moment I won't go into). Anything could happen and it's a struggle between trying to plan for the worse so I have a safety net and not letting the worry tie me down to the point that I'm paralysed with fear. That's usually how my anxiety affects me when it's at its worse. It's like a black mist goes over my eyes and I can't see my own hand in front of my face, let alone try to work out a plan to think something gone wrong. And my whole body is stuck in tar and I can't move.
The majority of my strength at the moment to get through this comes from Déa. The acceptance of change, of bad things happening, has always been something in religion I've found oddly comforting. Back when I first left Christianity, the teachings of suffering as inevitable initially drew me to Buddhism. I definitely see some Buddhist influence in the Filianic Scriptures, in particular the Clew of the Horse:
"All things, once gained, must pass into the darkness; all things, once built, must crumble into dust. Sickness, old age and death must come to all maids; what thing within this life should'st thou pursue? Thy fairest hopes undone bring desolation, or else, fulfilled, shall vanish in a day. Life is a passing dream; of all its treasures, there is no thing among them shall endure."
–Teachings 1:2:18-21
What I appreciate about Filianism is that, though we are reminded about the impermanence of this life and what we have in this world, we are not told to detach ourselves completely or to fall into nihilism. Everything we experience in this world is a reflection of Déa, however cracked or distorted. If we become too attached to the point that we are unable to overcome grief then we only cause ourselves to suffer more. But that does not mean we cannot feel love or joy or gain wisdom from those experiences while they are here.
On Tamala I lit some candles and sent good wishes to both my grandparents, to my aunt and to my dog as well as other pets I've lost in the past. I remember the warmth they shared with me and continue to bring whenever I remember them but I know not to let my mind linger on them for too long. Part of me wonders if doing so causes them as much harm as it does us? If remembering a soul passed on helps them stay close to us, what if being too obsessed to the point the grief is crippling that it also ties them to this world, though they are still unable to properly comfort us? It's a rather terrifying thought, even though it's just a theory, it helps me to avoid falling into such a state. Because I know it would cause those who loved me as much pain to see me suffering over them. They would want me to live. They would want me to be happy.
This is going to be a tough month but I will hold fast to my faith in Déa that She will guide me through to the other side, so that when Astrea comes around I will be ready and buzzed to hang up the decorations and sing carols to welcome the coming of the little Lady Janah; our Princess Divine!
I always find it amusing that America has Thanksgiving as a nice transitional feast between Halloween and Christmas. Meanwhile here in Britain we have Guy Fawkes Night where we celebrate the failed plot to blow up Parliament. Given the state of our government at the moment, I'm almost surprised Fawkes isn't seen as an unsung hero (I joke, obviously). I haven't attended a bonfire night in years but we constantly have fireworks being set off around town, much to the chagrin of my dogs. A shame, honestly, as I do enjoy watching a bonfire. There is something incredibly symbolic after Tamala about watching a cleansing fire destroy the old to make way for the new, as well as the rather cosy and friendly atmosphere of friends and family huddling together for warmth as the nights draw in. Fire and destruction are associated with Sai Vikhe and Sai Rhave; not as 'evil' forces but in order to bring about the inevitable change for the good. As I spoke of in a previous post, darkness must sometimes enter first in order to make way for the light.
I pray that the Winter months are not too cold or turbulent for my followers and that the souls of your loved ones hold you close.
Blessed is Our Mother God and Her Holy Daughter,
Blessed is She.
*Eagle-eyed followers of my blog may notice that I've started using the 'Orthodox' terminology when it comes to Filianic names for months and days of the week. This isn't a sign of me becoming more in line with Orthodox or Chapel ethics or tradition, rather it's just become habit from hanging around other Chapel-leaning Filianists in the Discord as well as guidebooks from authors such as Lady Sinclair using the Orthodox calendar.